The Best Place To Buy Or Sell Secondhand Shop Fittings, Display Cases And Drinks Fridges
Search


Temperature control.
Soup Kettle - Good condition.
£50 +VAT Over £200+VAT for a new one.
Comes with hinged lid with cut out for ladle. Also has lift out soup holder for easy cleaning.
Simmer stat control. 5lt capacity.
Diameter 250mm height 350mm
13 amp plug in.
Excellent condition soup warmer from the best manufacturer around. Made by Victorian Baking ovens.
£90 VAT Free ono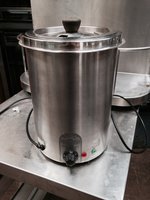 Showing 1 - 11 of 11 items